GrayAway Magic - Hair Darkening Bar Shampoo

, Ultimate solution to restore your natural hair color with long-lasting gray coverage. Say goodbye to constant reliance on hair dyes and hello to effortless hair transformation!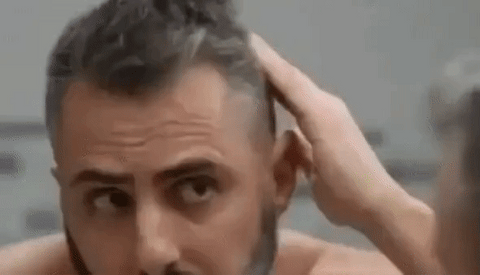 ✨ Rediscover Your Natural Color, Effortlessly ✨
Experience the power of our unique hair darkening soap that delivers visible results in as little as three washes*. By activating the pigment cells deep in the hair roots, GrayAway Magic restores your hair's color naturally and effectively. White hair completely turned black after using 4 boxes
💰 Say Goodbye to Expensive Hair Treatments 💰
Why spend thousands of dollars on costly hair treatments and hair dyes when you can effortlessly color your hair within the comfort of your own home? GrayAway Magic offers an affordable and convenient alternative that delivers results.
🌟 The Magic Behind GrayAway Soap 🌟
Discover the facts about GrayAway Magic:
🔹 Accelerates circulation rate in the scalp and revitalizes pigment cells.
🔹 Targets only gray hair, gradually reducing grays in just three washes*.
🔹 The cold-pressed soap features a unique formula that works harmoniously to transform gray hair, granting you a natural and perfect look.
🔹 Our nourishing formula includes strong key amino acids that promote scalp and hair health.
🔹 Regular use prevents new gray hair forming.
*Results vary. While many users experience positive results, individual outcomes may vary based on factors such as hair type, color, and condition. The extent and speed of color restoration may differ from person to person.
✅ Unlock the Benefits of GrayAway Magic ✅
GrayAway Magic is packed with benefits:
☑️ Restores pigmentation, helping you transform gray hair and reclaim your natural look.
☑️ Provides a gradual transformation of gray hair, ensuring a seamless transition and a natural appearance.
☑️ Suitable for daily use with its nourishing formula, offering convenience and versatility.
☑️ Designed for both hair and beard, giving you a complete solution for gray coverage.
☑️ Energizes hair follicles and helps prevent hair loss, promoting healthier and stronger hair.
🌟 Simple and Easy to Use 🌟
Using GrayAway Magic is a breeze:
Step 1: Moisten the area where you want to apply GrayAway Magic.
Step 2: Apply the foam and leave it on for 5 minutes, then rinse well with warm water.
Step 3: Rinse off and reveal the magic of GrayAway Soap.
✨ Experience the Magic of GrayAway ✨
GrayAway Magic is specifically designed to transform gray hair permanently with regular use. Each tin contains 50 grams of this transformative soap, providing you with long-lasting results.
🌿 Embrace Nature's Goodness 🌿
GrayAway Magic is crafted with all-natural ingredients, harnessing the remarkable properties of nature. Our thoughtfully selected ingredients work harmoniously to deliver the desired results, ensuring a potent blend that cares for your hair and scalp.
Rediscover your natural hair color and bid farewell to gray hair with GrayAway Magic. Embrace the magic that brings back your vibrant, youthful look effortlessly and naturally.