Healthier Legs After Just 15 Minutes of Use Per Day
"I've always had these veins ever since I started gaining weight during pregnancy. Now that my child is turning one, I can't seem to get rid of these veins. It hurts when I walk and even stand. Luckily, I don't have to worry about that all thanks to the EMS Bioelectric Acupoints Massager Mat! In just three months, I went from being in pain from every step to being able to run around the house with my toddler!" -Tracy, 30, Boston 
"Not only doe these veins really get in the way of dressing up and being fashionable, it also hurt! I've been wearing flat shoes that sometimes don't match my clothes. My legs hurt when I walk and wearing heeled shoes are out of the question. However, all that pain and discomfort went away in just three months all thanks to the  EMS Bioelectric Acupoints Massager Mat! Now, I can walk and strut with high heels and feel zero pain!" -Jamie, 33, New York 
Experience the Proven Benefits of EMS - Say Goodbye to Pain and Achieve Optimal Muscle Strength!
A study published in the Journal of Strength and Conditioning showed that EMS significantly increased muscle strength in elite athletes and non-athletes alike
EMS is effective in reducing muscle damage and soreness after exercise
EMS can aid in weight loss and combat muscle pain and mobility problems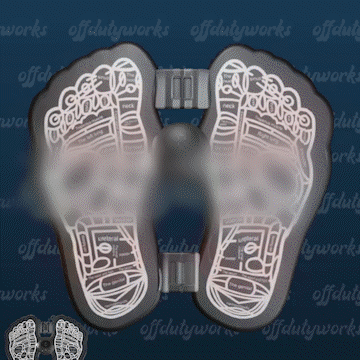 The Ancient Healing Secrets of Acupuncture
Discover the Proven Benefits of Acupuncture - Relieve Pain, Improve Sleep, and Boost Your Immune System!
Acupuncture has been shown to increase blood flow and improve immune function
Acupuncture can relieve pain, improve sleep, and reduce inflammation
A review of 13 clinical trials published in the Journal of Acupuncture and Meridian Studies found that acupuncture was effective in reducing the severity and frequency of migraine headaches
A study published in the Journal of Pain found that acupuncture was more effective than medication in relieving chronic low back pain
Say Goodbye to Varicose Veins
Combat Varicose Veins Naturally with EMS and Acupuncture - Improve Your Symptoms and Appearance!
A study published in the Journal of Vascular Surgery found that acupuncture combined with conventional treatment significantly improved the symptoms and appearance of varicose veins in patients
EMS can increase blood flow and aid in preventing lymphatic swelling, which is important in preventing the formation of deadly clots
What is AcuRelief™ Bioelectric Acupoints Massager Mat? 
AcuRelief™ Bioelectric Acupoints Massager Mat is an ingenious non-invasive health device that combines acupuncture and electro microcurrent simulation to ensure your legs are varicose-free and your muscles are strong. This mat has the ability to:
Ease muscle pain
Improve blood circulation, which decreases the chances of deadly blood clots
Improve lymphatic circulation to maintain and bolster immunity
Strengthen muscle tone
Provide relaxation and pain relief
Improve your health from the bottom up
Non-invasive and safe to use
Improve skin texture and decrease sagging
Aid with muscle repair and decrease the risk for muscle entropy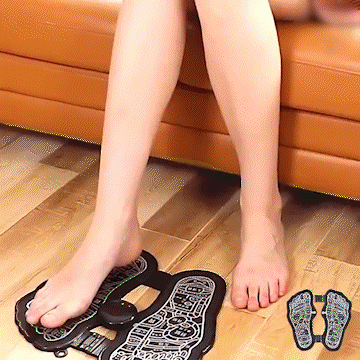 Recommended by Professional Vascular Surgeon
Bradley Chacon
MD, PhD, Professor in the College of Medicine – Tucson's Department of Surgery.
"As vascular surgeons, we often recommend AcuRelief to our patients who suffer from poor circulation or neuropathy in their feet. The electrical muscle stimulation helps to increase blood flow and improve muscle function, which can help to reduce pain and discomfort. The mat is easy to use and has multiple intensity levels, making it a great option for patients of different ages and health conditions. We have seen firsthand the positive impact that this EMS foot mat can have on our patients' mobility and overall quality of life. If you're looking for a non-invasive way to improve circulation and reduce foot pain, we highly recommend this product."
Jewel used to have painful varicose veins but she was able to treat them all thanks to the EMS Bioelectric Acupoints Massager Mat! Now she's sharing her story! 
Before Use 
"Ever since I hit fifty, my weight has swelled and my circulation isn't as effective as before. My doctor recommended that I use the EMS Bioelectric Acupoints Massager Mat as an alternative to taking medicine."
Month 3  Onwards 
"I've used the EMS Bioelectric Acupoints Massager Mat daily for three months and I'm in shock with my progress. The first month, I was able to walk short distances, such as walking from the couch to the kitchen and walking up and down the stairs. The second month, I was able to do my usual commute while walking slower than usual but I don't experience pain to the point I use taxi hailing services to commute. However, now in month three, I was able to walk, jog, and even run without feeling any sort of pain. The veins are gone and my legs look flawless and feel more firmer because of the increased physical activity! "
Instructions for Use
To start the EMS Bioelectric Acupoints Massager Mat, press the "ON" button.
Use the "PROGRAM" button to adjust the mode to your desired setting.
Adjust the intensity of the electrical pulses by toggling the "OF/-" and "ON/+" buttons to increase or decrease the intensity.
For optimal use, ensure that your feet are dry and step onto the mat, making sure that your feet are within its boundaries.
To achieve maximum benefit, use the EMS Bioelectric Acupoints Massager Mat for 3-4 hours daily.
Store the mat in a cool and dry place when not in use.
Specifications
Therapies: Acupuncture, EMS

Material: Polypropylene 

Color: Back, Pink

Inclusion: Massage Mat, Control Panel 
Package Includes
AcuRelief™ Bioelectric Acupoints Massager Mat