Remarkable Transformations of MAZO™ Users
"I have been using the MAZO™ Collagen Crystal Eye Mask for 1 month as directed and I'm impressed with the results. My eyelids appear smoother, and my dark circles have faded a bit. It's a comfortable mask and will not switch to other brands after using it. I would recommend it to women of all ages!" – Imelda Johnson – Phoenix, Arizona
"This is seriously mind-blowing!!! I hardly get any sleep, so my eyes end up looking all puffy and ready to explode, and my skin? Well, it's just lost its glow. A buddy suggested I try these crystal eye masks. I slap 'em on before bed, and they feel all cool and cozy. After using them for around 1 month, my eyes have done a crazy turnaround, just like in the pic. Big shoutout to MAZO™, I'm sticking with it!" – Brianna Davidson – Brooklyn, New York
What's
MAZO
™ Collagen Crystal Eye Mask?
The MAZO™ Collagen Crystal Eye Mask is a powerhouse of benefits for aging skin. With an enhanced formula containing collagen-supporting and skin-renewing properties, it helps to tighten the skin while simultaneously reducing the appearance of fine lines, wrinkles, and dark spots.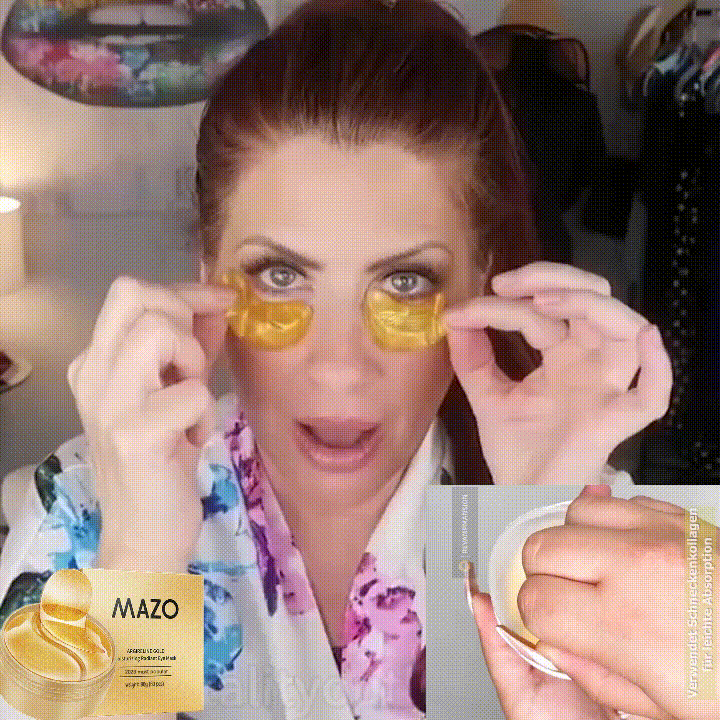 Endorsed and Recommended by an Expert
Dr. Berek has been involved in skin research-related topics at the research institute for over 20 years. We invited her to participate in an experiment with our enhanced MAZO™ Collagen Crystal Eye Mask, which she used for two months. She insisted on using a more natural formula to achieve a safer and more effective method and appreciated the eye mask after the experiment.
Now, after two months, she continues to use our eye mask, saying, "The formula of the eye mask has proven to be safe and healthy, with rapid effects, and it also aligns with my principle of green and natural formulation. Essentially, I would recommend this product as the first choice for anyone with eye area skin issues."
3 Key Ingredients of the MAZO™ Collagen Crystal Eye Mask
24K Gold Foil


24K gold offers powerful anti-aging and skin-rejuvenating benefits. Gold is known to improve circulation. Thanks to this circulation boost, the foil imparts a beautiful, healthy glow upon application! 24-carat gold not only revitalizes dull skin but is also favored for its moisturizing effect, helping balance moisture for a stunning natural radiance.

Medically Verified by Dr. Rachel Nazarian, MD, FAAD
Snail Slime


Snail slime has been used since ancient times and possesses many beneficial properties for the skin: it stimulates skin repair and healing, protects the skin, has anti-aging properties, and promotes skin smoothness, moisture, and radiance.

Medically Verified by Ross Radusky, MD
Fucus Algae


Fucus algae contain a compound called Fucoidan, which has anti-aging properties. Fucoidan improves collagen retention while reducing skin thickness and enhancing elasticity. To harness these benefits, Fucus algae need to be applied externally. Some lotions or creams contain Fucus or Fucoidan.

Medically Verified by Tsutomu Fujimura, Biological Science Laboratories
Penetrates Deep into the Skin, Delivers Nutrients, and Repairs Damage
The MAZO™ Collagen Crystal Eye Mask penetrates deep into the skin to deliver nutrients and repair damaged cells, transforming the delicate eye area from a sunken, dark appearance to a firmer and tighter look. The snail adheres to damaged cells in your outer layer, leaving a smooth and hydrated complexion. The MAZO™ Collagen Crystal Eye Mask utilizes snail collagen and gold for maximum efficacy. You only need to wear it for 15–20 minutes daily, and you'll notice the difference! It's entirely natural and has no impact on the human body. It's especially suitable for helping anyone eliminate wrinkles.
Why Choose the Collagen Crystal Eye Mask from MAZO™?